Founder @ Markwick Consulting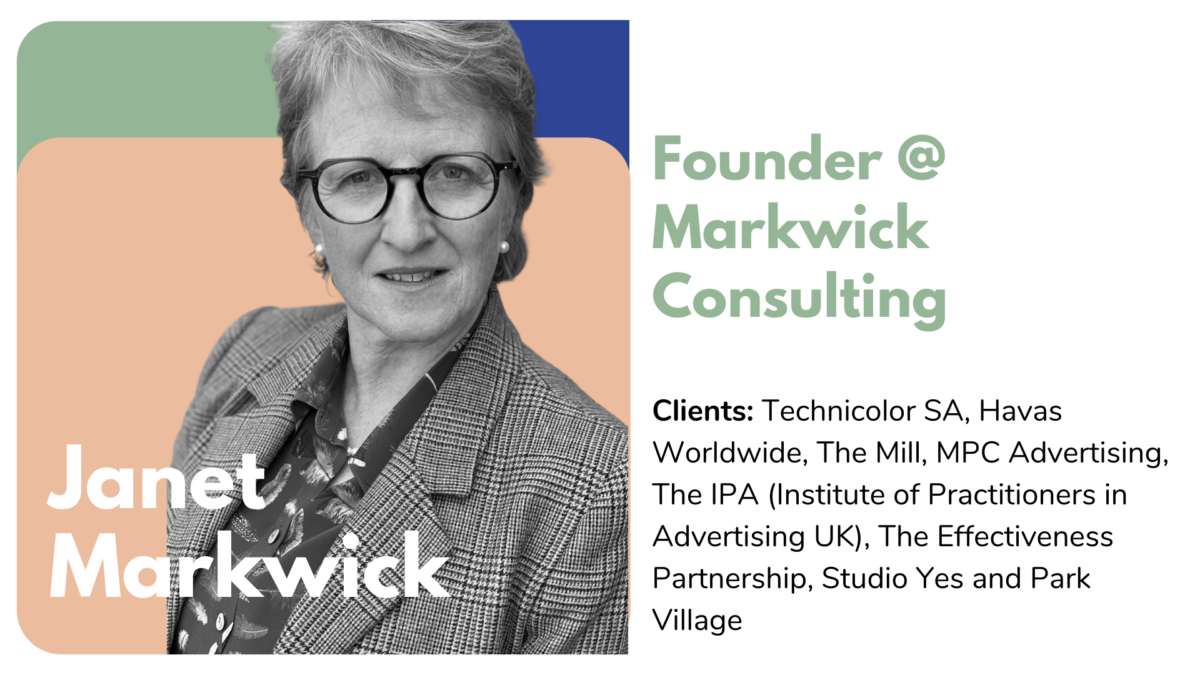 It is rare to see left and right brain working at such an equally furious pace but with Janet, you get the both barrels. Janet's creative empathy is easily matched by her commercial acumen, making her a great ally for both clients, agencies and production companies alike. She has the ability to see the bigger picture and yet still hone in on the finer details that are required to get things moving. She is a true change agent, fearless, full of energy, curious and ultimately focused on what matters – increasing the value of what we do.
Janet set up her consultancy practice in 2019 and focuses on improving commercial performance and driving business transformation and growth. She brings a wealth of knowledge from both a client and agency perspective into how creative communications businesses can achieve growth.
One of only a few senior executives to move from client to the agency and production company arena as CFO Grey London, becoming their Chief Commercial Officer across Grey EMEA. Janet was instrumental in driving nine successive years of commercial and creative growth. Most recently Janet worked with Technicolor with The Mill and MPC Advertising leading a major business transformation project increasing commercial performance and driving growth through diversification into new areas.
Janet held senior financial, marketing and commercial roles at Coca-Cola and Sony, where she was Director of Marketing Communications Investment across EMEA.


Janet has a true generosity of spirit that nourishes talent, and by driving a powerful agenda to broaden commercial understanding across creative businesses by empowering people to play bigger roles and introducing new ways to measure ROMI, Janet has driven and enabled both the creativity and commercial performance of both agency, production companies and client business to flourish and grow.

In 2016 Janet was awarded an IPA Fellowship in recognition of services to the industry. She is Non-Executive Director and sits on the board of the Creative UK formerly Craetive England and the creative Industries Federation.
Janet thrives working with leaders and their teams to build truly innovative, future ready commercial solutions, capabilities and operational structures that scale efficiencies aligned to what clients and the creative sector value most – profitable growth.